Slide 1
Design of Electronic Devices
The versatility of the company provides you with both the design and performance of electronic devices for individual orders. An experienced team of designers and developers will develop for you design equipment according entrusted specification that meets preset functionality. Our experts consult with the client issues relevant to the project, making the system creates optimal from the point of view of production cost, reliability, and compliance with established criteria.
Every order we are able to complete at any stage of production, eg .: preparation of technical documentation, prototype, a small trial run as well as any number of target.

Stages in the development of documentation and production of the ordered equipment:
• Define objectives and requirements of a given device;
• Development of the project, selection of components, optimized for the production process;
• Development of cost analysis;
• Design and execution of printed circuit boards;
• Prototype;
• The execution of software;
• Manufacturing the final device
Slide 1
A qualified team offers a service project execution circuit boards in full:

• Single-layer circuit design;
• Circuit design with double-layer metallization;
• Multilayer circuit design.

The professionalism of our team provides 100% fulfillment of the project is characterized by optimizing the distribution of elements and thereby reduce the dimensions of the printed circuit board.

Each project we can finish at any stage: execution of documentation, prototype testing.
This will allow you to make changes to enable it to prepare the project for mass production.
All our projects are made in accordance with the required standards, attaching to them the detailed documentation.
Slide 1
We use a wide range of reputable manufacturers of electronic components and assemblies m.in .: Samsung, STMicroelectronics, ROHM, Microchip, Murata Fairchild. Thanks to many years of activity in the electronics industry, we are able to provide extensive facilities of high quality components. This allows for cost reductions end, a stocked warehouse of components allows for quick production start.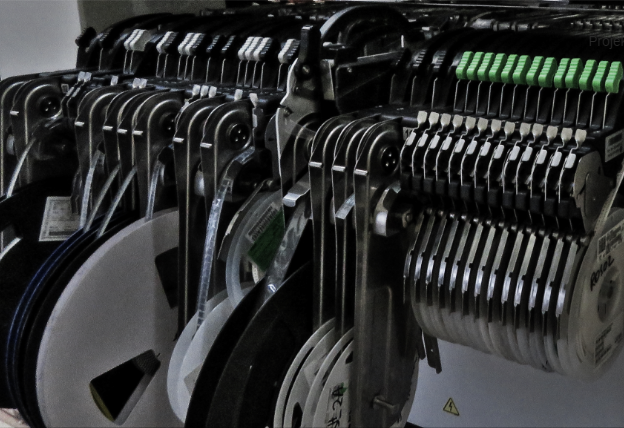 Slide 1
SMT line is equipped with advanced and highly efficient machines from reputable companies: Autotronik (automatic stencil printer), Samsung (automatic stacking SMD), Seho (reflow oven), SAKI (automatic inspection switcher). Thanks to the advanced production line, we are able to perform both small prototype projects and large orders wieloseryjnej. Mounting options of our SMT lines reach 250,000 SMD day.
Line THT IS based mainly on the wave soldering ERSA, as well as Assembly manual When using a soldering station.
Assembled by us are subject to control by a professional system of automatic vision inspection SAKI. We use a wide range of renowned European and Polish suppliers of components and electronic components.
Slide 1
The scope of activities of the production department
• Storage Elements and PCB circuits;
• Verification Project for high-volume production;
• Installation in SMT technology;
• Installation in THT technology;
• Making templates make applying solder paste;
• Reflow soldering;
• Wave soldering solder;
• Protective coating;
• Testing of electronic circuits;
• Installation of systems in housings;
• Preparation systems for Transport.